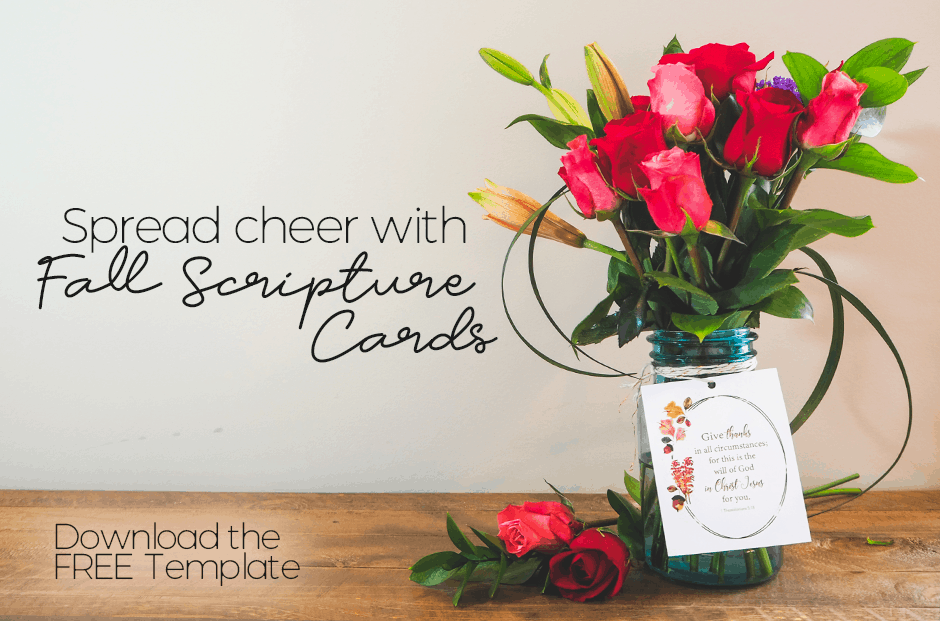 5 Ideas to Spread Cheer this Fall
The crispness in the air often brings excitement for all things autumn — pumpkin spice, comfy sweaters, cozy nights by a bonfire, and all the seasonal foods.
But for some of us, fall is a very stressful and lonely time. Holidays can be hard without the ability to have loved ones near, especially those who have passed away.
A ChurchArt team member recalls how a special craft she created as a child brought joy to another member in her church.
"When I was seven years old, I created a bookmark for a widow at church. I visited her later when I was in my 20s and she was confined to her home. She pulled out a tattered, old, taped-up piece of paper and handed it to me.

'Do you remember this?' she asked. Truthfully, my memory of creating the now well-loved bookmark was vague. 'Wow! I can't believe you still have this!' I exclaimed.

'I've kept it in my Bible ever since you gave it to me. It always makes me happy when I see it,' she said with a smile on her face."
With a year like we have had in 2020 and now well into 2021, going into fall may not bring the same cheer as it has in other years. Now is the perfect time to lift the spirits of others by making a small gesture that can have a very powerful impact for many years to come. 
Here are five ideas for using Scripture notecards to help spread cheer to friends, teachers, family members, and sick or elderly members in your church!
1. Mail a card or letter with a little fall-out surprise.
Do you get excited when you receive an unexpected piece of mail? When your mailbox is constantly filled with junk or political pieces, an unexpected letter or card is always a welcome surprise. For most people, even the smallest note is a simple reassurance that someone out there is thinking of them and cares enough to take the time to send a little piece of joy. 
Sending a card with a Bible verse on the front or inside is a sure way to offer simple encouragement to someone who may be feeling isolated or alone. Or, if time permits, download a fun border to frame a sheet of paper, or use a simple piece of white copy paper and write a note by hand.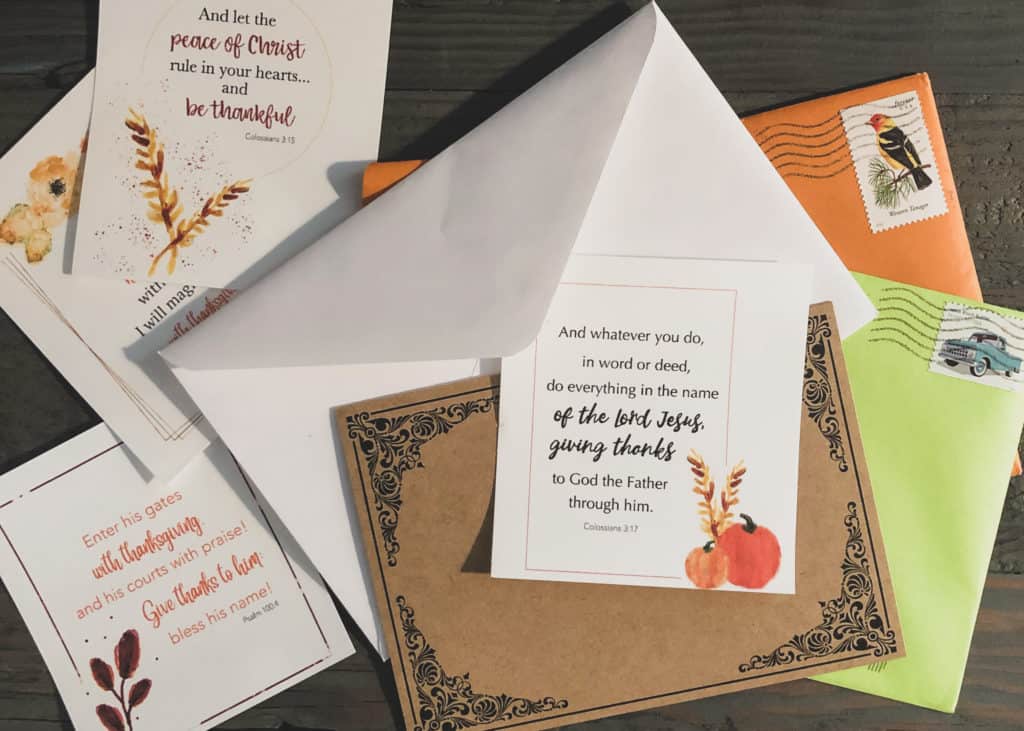 If you send a card or a letter, insert a Scripture card, photo, or drawing in the envelope! Having something fall out of the card adds just a little more excitement. These notecards, photos, or special inserts can then be posted on the refrigerator or be kept in a special place as a constant visual reminder that brightens any dreary day.
2. Drop off flowers on doorsteps.
Another powerful way to remind someone they are loved is to drop off flowers on their doorstep! You do not have to spend $$$ to send flowers! Print out a Scripture card, punch two holes at the top and use craft string to attach it to a flower-filled Mason jar, a pot of mums or a house plant.
Drop off your gift on the person's doorstep when they're not home, or text them from your car to tell them there is something special at their door. When they open the door, you can offer a smile and a wave from a safe distance.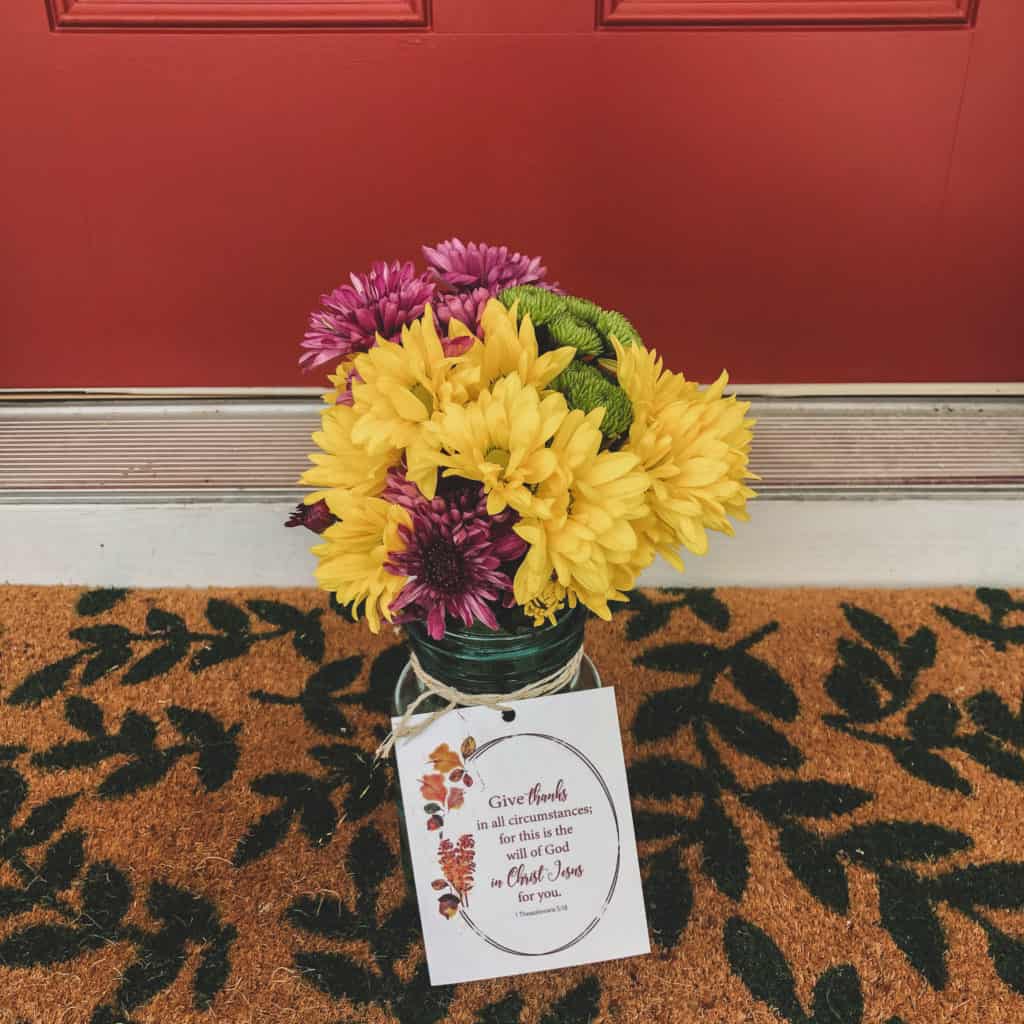 Pro Tip: Be sure to use cold water and do not fill the Mason jar to the top to help avoid spilling the water during the car ride. 😊
Do not forget — men enjoy flowers (or plants) too! It's an even more delightful surprise for a male teacher or church leader who doesn't often receive flowers.
3. Make bookmarks to include in a book (or send on their own!)
For those confined to home, books are a great way to pass the time. Why not brighten up their reading with a bookmark?
Using art from the Fall Scripture Cards Template (at the bottom of this blog), artwork from the ChurchArt.com library or your own artwork, you can easily create a bookmark to offer encouragement.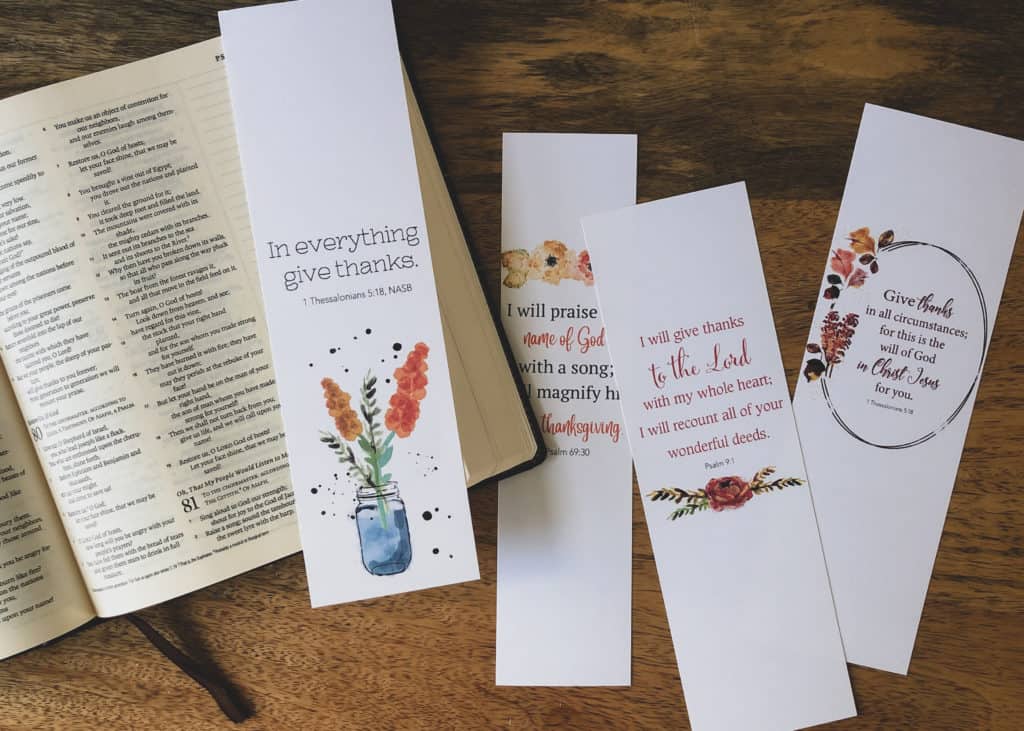 The bookmark can be as simple as a single piece of artwork on cardstock or as fancy as adding a ribbon and laminating it (for a longer-lasting impression). You can even write a small note such as "You are loved!" and sign your name on the back. Every time they pick up a book holding your bookmark, they'll be reminded they are not alone.
And, as I did as a kid, this is also a perfect supplemental activity for kids at home to reach out to grandparents, teachers or elderly members in your neighborhood or community. Kids can also make super creative and fun bookmarks! Simply give them a piece of cardstock and let their imaginations run wild!
4. Tie Scripture cards to little goodie bags or jars.
One of my favorite things to do is going to the grocery store the day after Halloween. I stock up on candy that is 70% off and fill little goodie bags or jars as gifts during the holidays.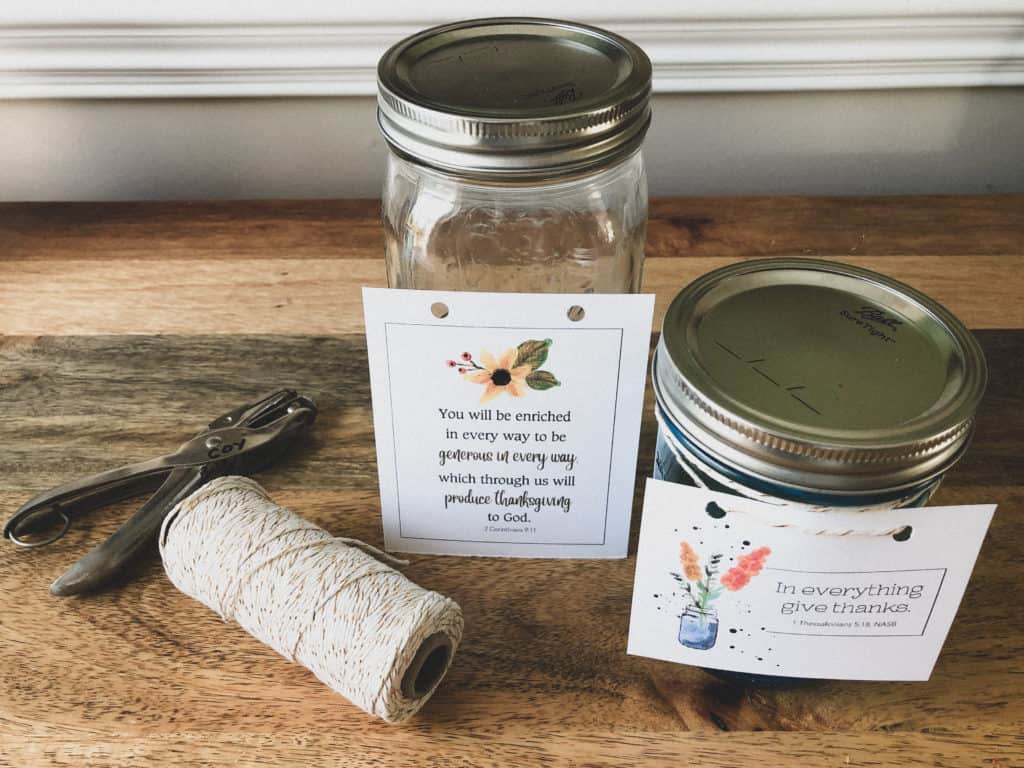 If you enjoy baking, baked goods such as cookies, slices of cake, muffins, cupcakes or baked bread are always received with a smile. Knowing you took the time to not only deliver the treat, but to make it, means a lot. And you don't have to bake from scratch, just remember — if you baked it, you made it!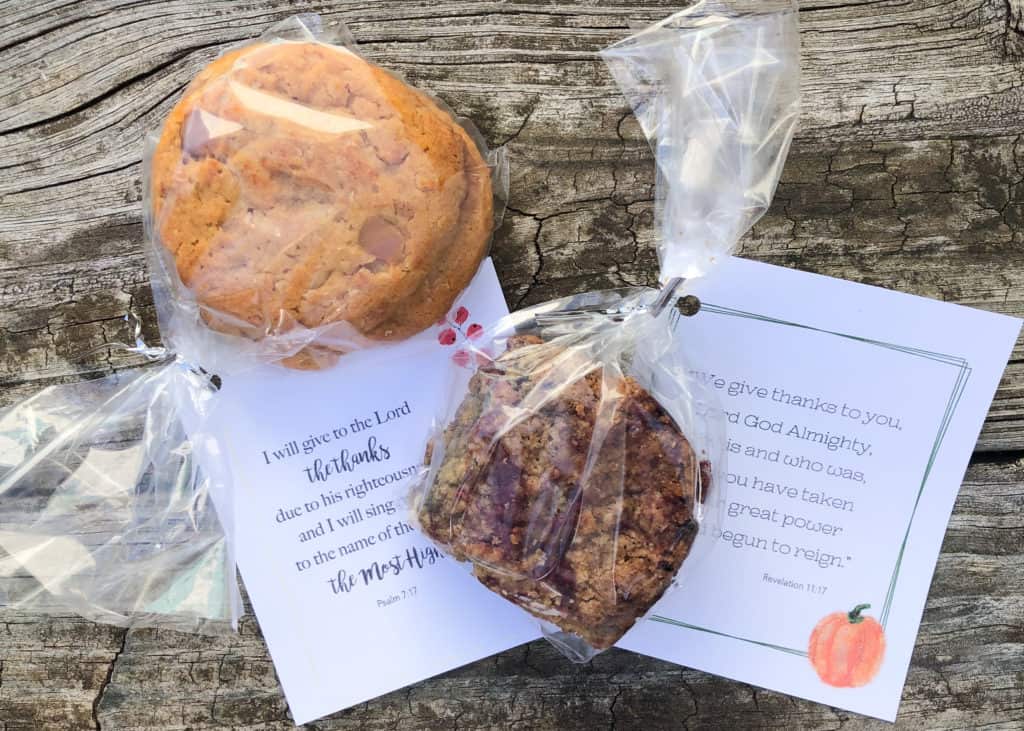 Choose a Scripture card, punch a hole in the card and use string or yarn to tie it to your goodie bag or jar. Add ribbon for extra pizzaz.
5. Create gift baskets of goodies.
If time and funds permit, gift baskets are a great way to spread cheer. Gift baskets will be appreciated by lonely kids who aren't able to see their friends, parents stressed out from balancing all these new changes, teachers struggling to learn new tools, church leaders under pressure from leading the church during a pandemic, or elderly members who have been isolated for months on end. The list goes on!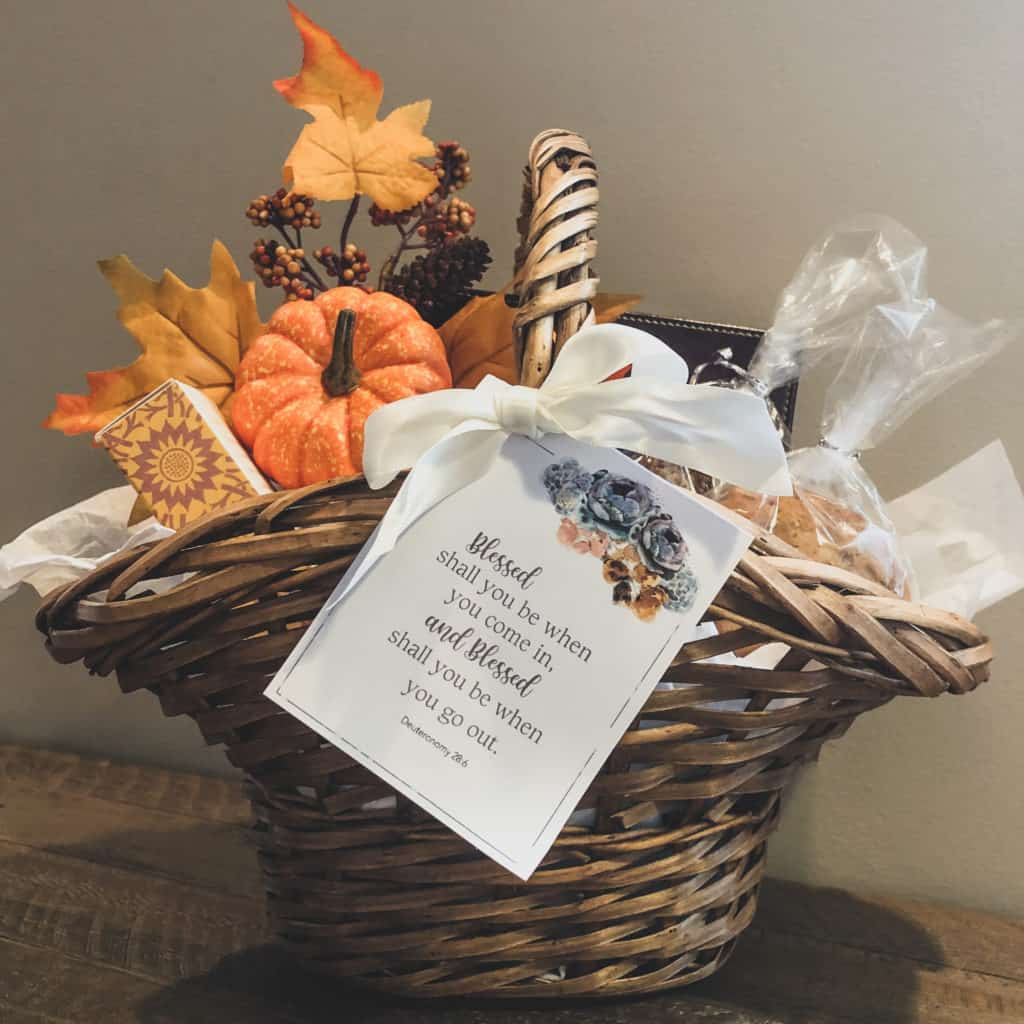 When putting together a gift basket, it's best to start around a theme. For example, if creating a gift basket for a stressed-out mother or teacher, include lavender-scented bath soap, de-stressing tea, a funny mug, chocolate, cozy sock, or spa items — anything you think of that you love or enjoy that helps relieve stress. For a kid, ask their parents about their favortie color, animal, and hobbies so you can try to tailor the gift basket to match his or her personality.
Tie a Scripture card to the basket as your gift tag and as a great reminder of hope and encouragement.
Download the free template of Fall or Thanksgiving-themed Scripture Cards!
We've provided 12 Fall Scripture Card Templates featuring watercolor designs with Bible verses centered around Thanks, Thanksgiving, and Thankfulness.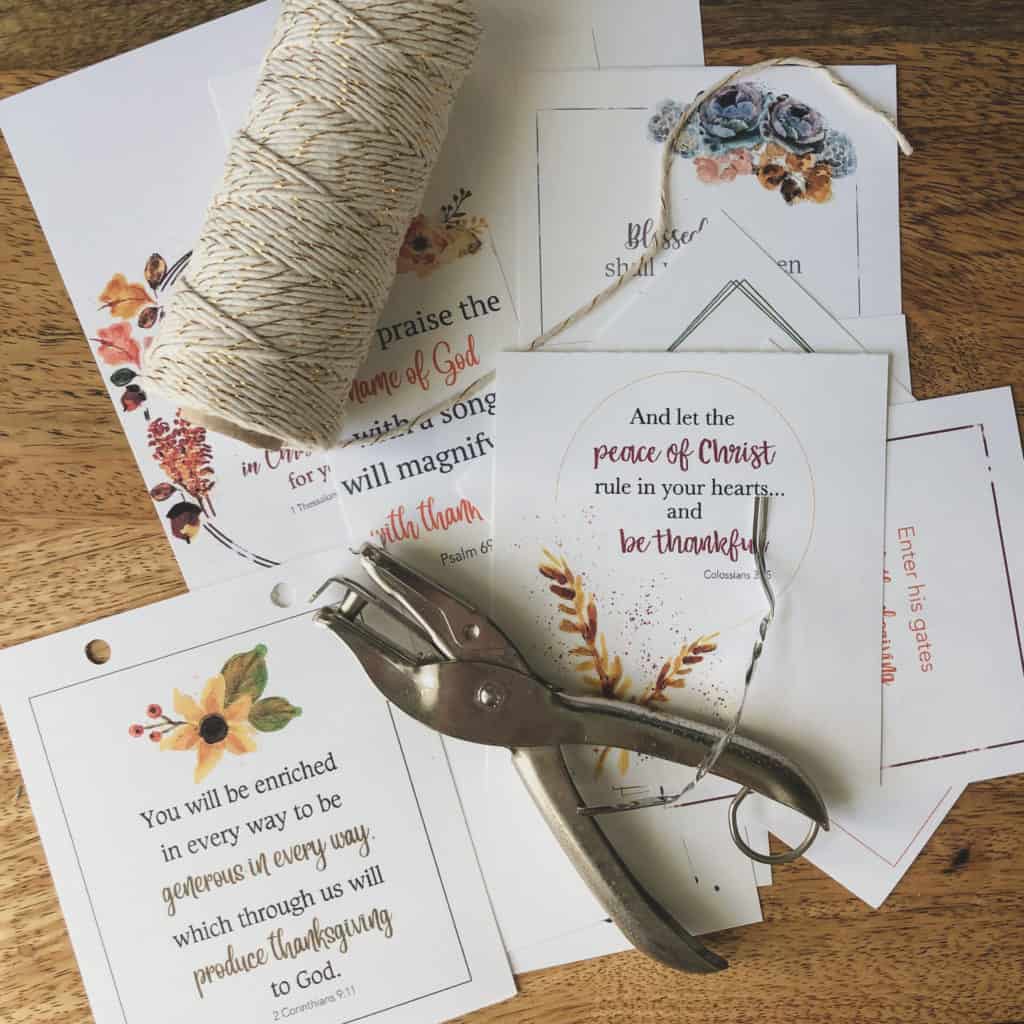 The notecards are perfect for printing out on card stock and then cutting in three places to make six cards from a single sheet of paper.
You'll find the links below to download the designs in PDF, Publisher, and Word file formats.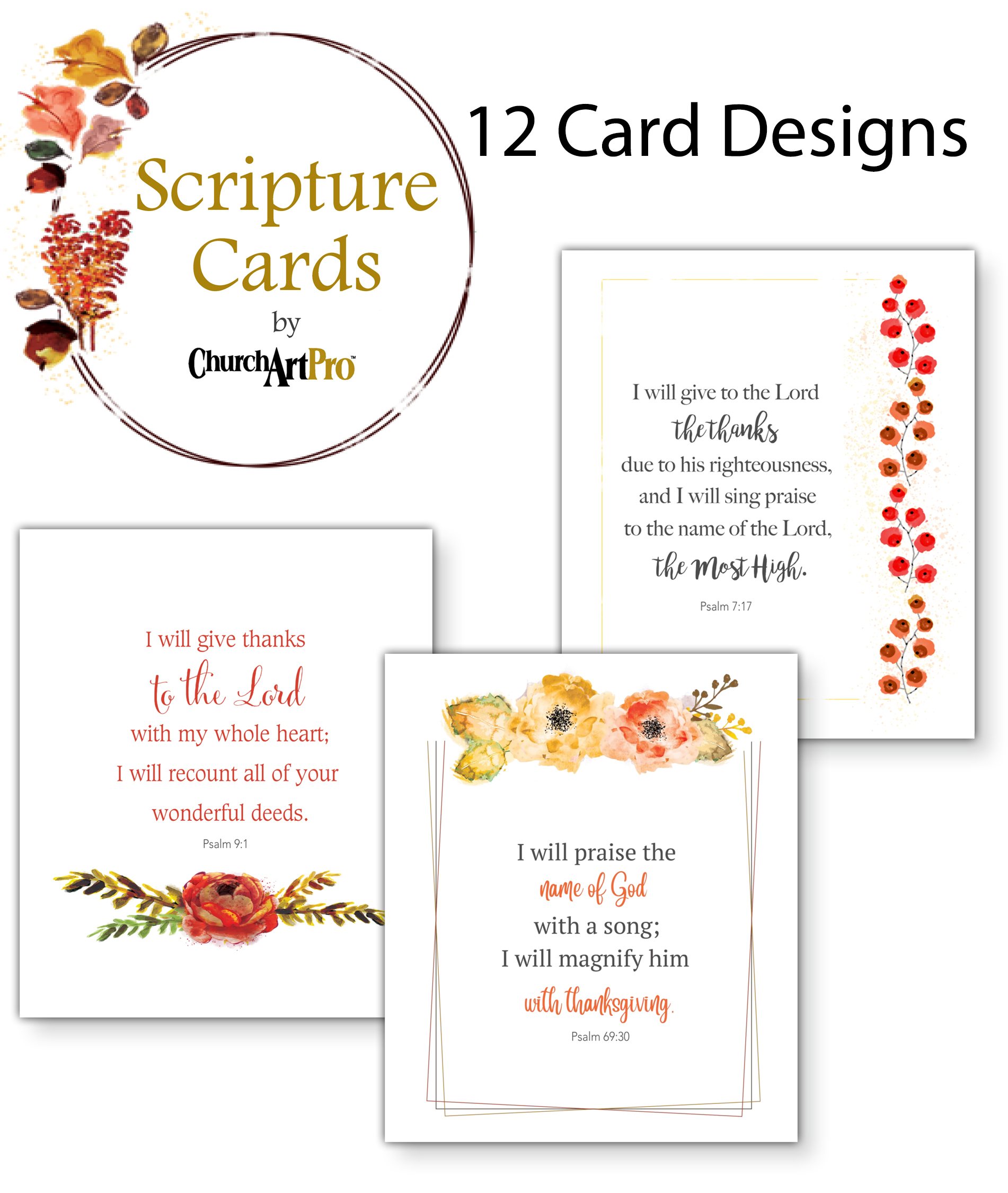 Click on the links below download the templates for FREE:
Fall Scripture Cards PDF
Fall Scripture Cards PUB
Fall Scripture Cards DOCX
If you're looking for more designs, be sure to check out our Free Printable Scripture Cards for Spring or start your Free 14-day trial to ChurchArt.com for unlimited downloads of thousands of Bible-based clipart, illustrations, photos and more.
ChurchArt Team
We love art, are passionate about helping churches create professional-looking communications and are a fun bunch of folks. With an in-tune creative director and a rock-solid team of artists, we will provide the art you'll want to use, plus templates, puzzles and extras that make your job easier.