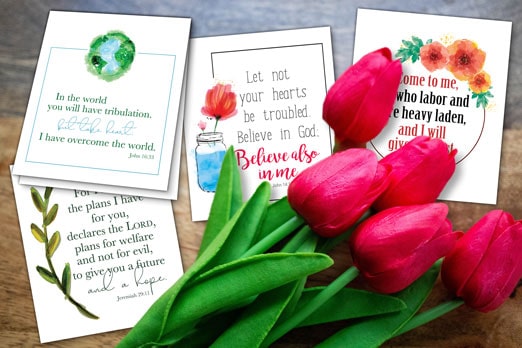 FREE Printable Scripture Cards
With things rapidly changing in the world, the one thing that remains constant is the word of God. The team here at ChurchArt Pro has created beautifully appropriate Scripture cards in a variety of designs that you can freely download, print and share with your church members and ministry community. 
We've provided twelve Scripture designs available as single-sided cards and also as foldable notecards. The notecards are blank inside, so adding a personal message is easy. You'll find the links below to download the designs in PDF, Publisher and Word file formats.
Uplift the spirits of your church members.
Our hope is that the Scriptures contained in these cards will continue to remind us all of God's steadfastness and His unchanging promises now and in the days to come. Encouraging and caring for our church members and community has never been more important. Use these cards in many ways to keep the spirits of you and your church members uplifted:
Prepare a stack of cards to leave on a reception table for people to take for encouragement.
Print on stock paper, attach a magnet and give as tokens of friendship.
Include them with care packages to family, friends and neighbors.
Use them as bookmarks for your Bible.
Use the art in your church newsletters.
Laminate and add a key ring for a set for kids to memorize.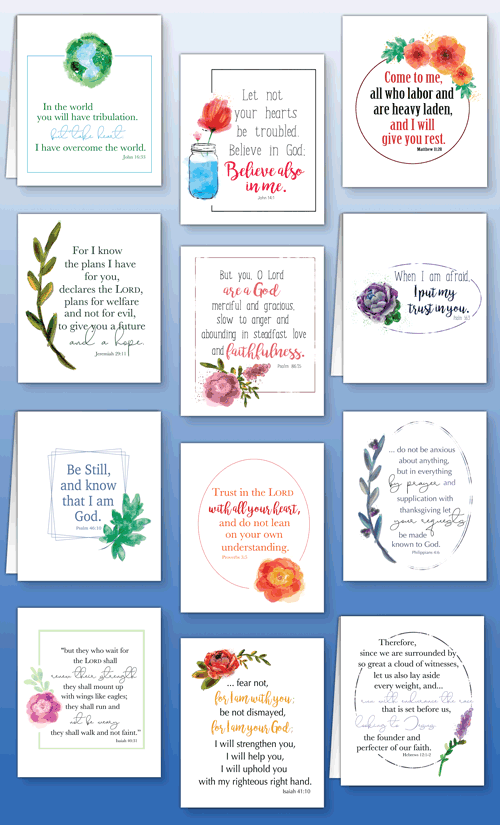 Scripture Cards PDF
Scripture Cards PUB
Scripture Cards DOC
Scripture Notecards PDF
Scripture Notecards PUB
Scripture Notecards DOC
We'd love to hear from you.
Don't forget that we'd love to hear from you. Are there other resources that you are searching for that would be of help? Or do you have ideas of what you've done to communicate with your members that you'd like to share? We could post them so others might benefit from your efforts. Drop us a note at service@ChurchArt.com.
Our prayers continue for your wellness and safety during this time.
If you would like more clip art and images designed for your church communications, start your free 14-day trial at www.ChurchArt.com. Memberships start for as little as $5.99 per month.
ChurchArt Team
We love art, are passionate about helping churches create professional-looking communications and are a fun bunch of folks. With an in-tune creative director and a rock-solid team of artists, we will provide the art you'll want to use, plus templates, puzzles and extras that make your job easier.