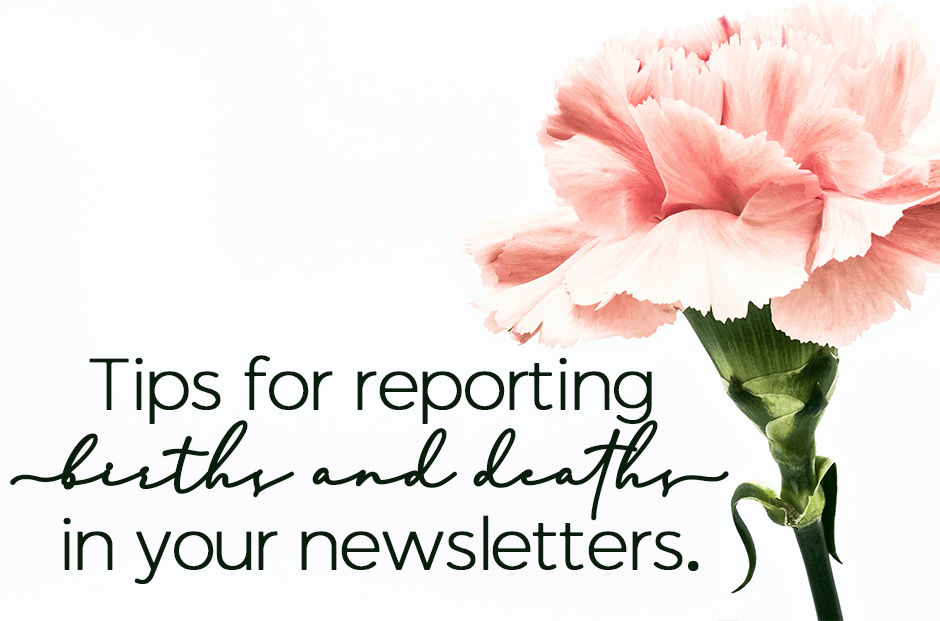 Tips for reporting births and deaths in your newsletters.
A frequent question we get at ChurchArt.com is "What are some tips for reporting births and deaths in my newsletter?"
The main thing is to treat each birth and death as unique. So, if possible, avoid merely listing names and instead, compose a few sentences to make each announcement personal.
Tips for Creating Birth and Adoption Announcements
Birth and adoption announcements give an opportunity to say something significant marking the importance of a new life and new family member being added to your congregation. They are a joyful and exciting addition to any church communication and give you the opportunity to make something unique and fun.
When creating your announcement, you can include the arrival date, gender, birth weight, baby's features and emerging personality, parents and grandparents, excitement of siblings and more. This provides the opportunity to compose a few sentences for the special occasion.
Keep in mind, not every family goes home with a healthy baby, and not all births are to two-parent families. But even in these circumstances, there is a new life and all births deserve a sensitive mention.
Be sure to always obtain permission from the appropriate parties before including personal details. It is always a good idea to let parents review the birth announcement, too. They may provide additional insights or anecdotes that can make the announcement even more unique.
You should pair any announcement with appropriate art. If you're making the announcement in more than one of your church's media outlets (newsletter, bulletin, e-mail announcement, Web site, etc.), use the same font and image for each version of the announcement to provide continuity and cohesiveness.
Here are some of our favorite birth-related art images from our library:

To add a memorable touch, create a commemorative birth or adoption announcement for the family that they can have framed or added to a memory book for the child.
Your church community enjoys celebrating such joyous occasions, so take the time to honor the families of new additions with your design treatments of their news. Every new life is a gift from God. Your announcement will become a cherished reminder of this special time in a family's life.
Tips for Creating Death Announcements
For death announcements, use this occasion to say something about the contributions of the individual — to the community, the church and his or her family. Mention special interests or accomplishments. Include a personal quote from a friend, paired with a nice photo and artwork.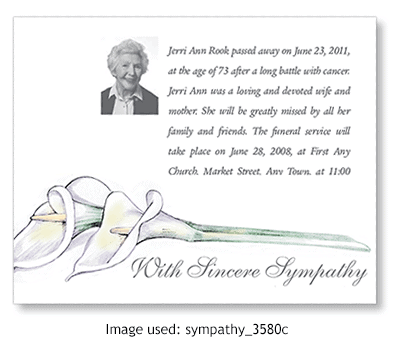 Memorial or charitable contributions, if specified by the family, are appropriate to include and so are details of the funeral. Be sure to only include these details if the publication will arrive before the service (as in e-mail announcements).
For special circumstances, such as a suicide, talk to the family about what they would like included in any announcement. You do not have to mention the cause of death, but you can say the person, "died unexpectedly" or "suddenly."
Here are some of our favorite art pieces for death announcements from our library:

If you're uncertain about what types of information to include — or not to include — in a death announcement, please seek the guidance of a family member who can help you make the right decision. Remember that obituaries are online and can also provide more information that you may wish to include in any death announcement.
ChurchArt Team
We love art, are passionate about helping churches create professional-looking communications and are a fun bunch of folks. With an in-tune creative director and a rock-solid team of artists, we will provide the art you'll want to use, plus templates, puzzles and extras that make your job easier.