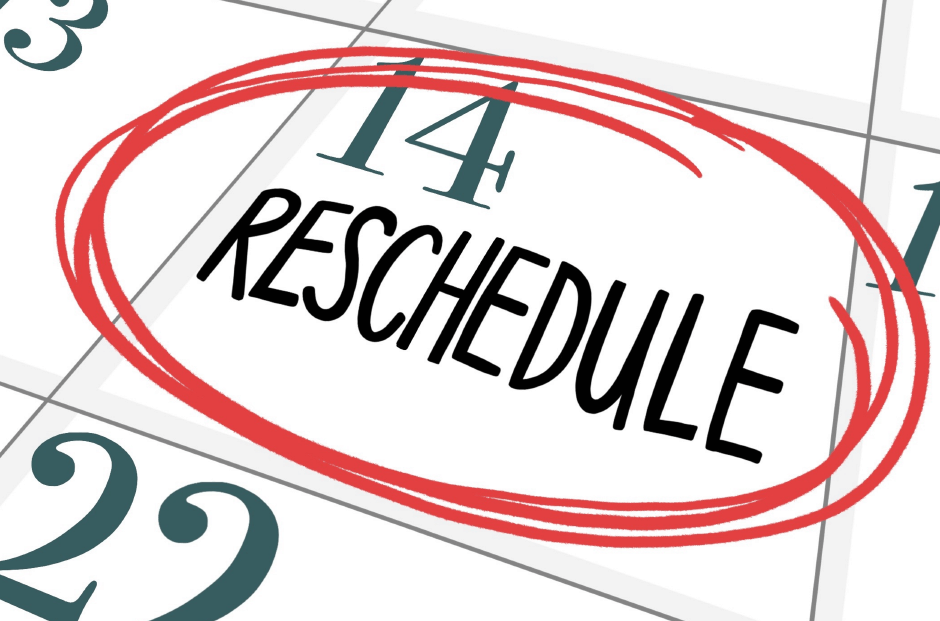 Creative ways to announce new dates
Sometimes change is inevitable. Due to unforeseen circumstances such as pandemics or natural disasters, many events and activities must be canceled, postponed or left in limbo.
When this happens, you've probably been in touch with members about the necessary schedule changes by word of mouth or via a quick email or text message. However, you may be looking for a more official way to spread the word.
Rescheduling, postponing or canceling an event is never fun. But when you do have to cancel, here are some creative ways to communicate this change.
Grab Readers' Attention with Creative Clipart
Use bright and colorful clipart to communicate the change in your church's newsletter, worship bulletins or welcome message announcements.
You can pair a script font with a serif font to communicate the change of plans in a way that will automatically draw your reader's eyes to that space. Have fun with new phrasing or wording too!
Keep in mind, you don't always have to use red, yellow, orange or black colors either. Try experimenting with bright and unexpected colors as well.
Send a Postcard (Download our FREE Template)
One way to announce a large event that has been rescheduled is to send a postcard to your entire church community.
The postcard can be a simple black-and-white design that saves on ink but is still a physical reminder of the new date. Members can post these on their fridge or stick in their planner to refer to easily in the future.
To get started, be sure to download our FREE church event postponed postcard below. The template comes in both Microsoft Publisher and Word docs for easy editing and printing.
You can easily make the above template your own by adding your church logo or replace the church image with the event icon or logo.
If your church budget is limited, simply print the postcard and hand out to members. We've all been guilty of using these as bookmarks too. 🙂
Post on Your Church's Social Media Page and Website
Your church's social media page (such as Facebook, Twitter and Instagram) is a quick (and FREE) way to get the word out. It's quickly and easily shared and can link back to your church's website for more details.
Social media announcements work best when they have an image attached to the post. Choose a fun and colorful image to stand out in your members' feed, especially if there are several other events being moved within your local community.
If your church event already has an event poster or image, try overlaying a clipart image with some text to communicate the change. If your church event already has an event poster or image, try overlaying a clipart image with some text to communicate the change.
Keep Your Announcement Concise
Whether you're placing the announcement in your church bulletin, sending an email or posting online, make sure the message is short, clear and concise.
The most important information to be communicated is when the event was canceled or postponed and there's a new date. You don't want that information to get lost in a long explanation of why any event was canceled.
Below is an example of a rescheduled or postponed announcement:
Due to unforeseen circumstances, we decided to postpone [event name]. This was a hard decision to make, but we believe it is the right thing to do.

The new date is [month, day, year] from [time].

Please direct further questions to [email].

Thank you for your understanding!
Although it's never fun to have to reschedule or cancel a church event, good communication using creative and eye-catching ways will help keep your congregation and community-at-large on the same page throughout the change.
ChurchArt Team
We love art, are passionate about helping churches create professional-looking communications and are a fun bunch of folks. With an in-tune creative director and a rock-solid team of artists, we will provide the art you'll want to use, plus templates, puzzles and extras that make your job easier.