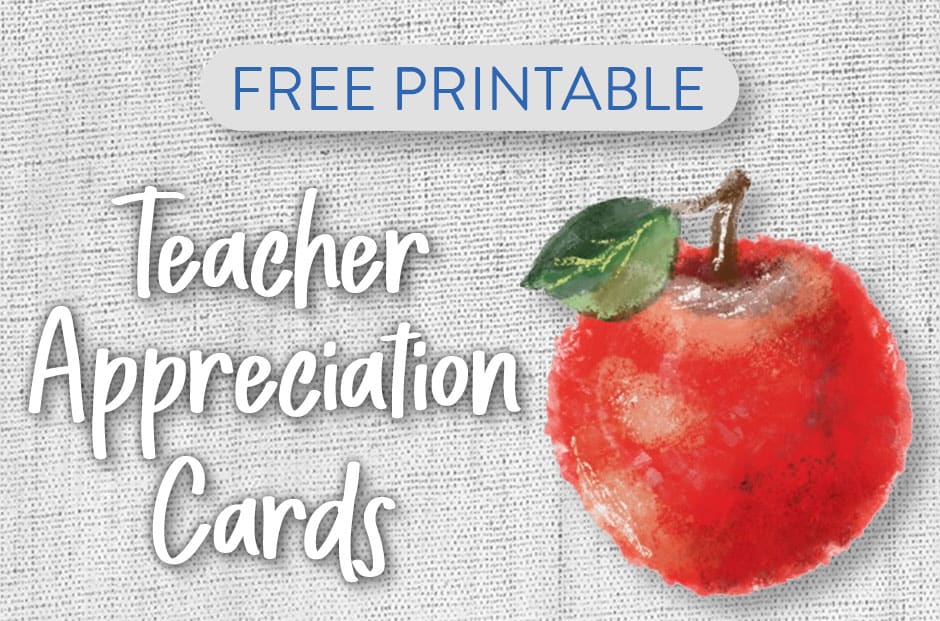 Celebrate Your Teachers with Free Downloadable Cards
It's generally accepted that teachers can do "virtually" anything and are teacher-strong no matter the teaching distance. But that doesn't mean our teachers haven't had to overcome a lot in the last year!
In the United States, Teacher Appreciation Week is celebrated annually in the first full week of May. You can take part in this year's national holiday by using our NEW printable Teacher Appreciation Cards.
Here's an affordable craft project that will honor teachers and spread some cheer! We created these cute vases to share with our local schoolteachers, Sunday school teachers, Bible class teachers and neighbors.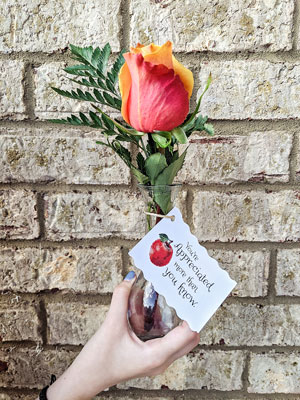 Materials you will need:
Download and print our Teacher Appreciation Cards (see links below)
A few vases from your local craft store
String, jute or rope
Scissors (try decorative edge scissors for a fun look)
Hole punch
Flowers
You can easily replace the flowers with a jar of candy, cookies, coffee or the teacher's favorite writing utensils!
Steps to create Teacher Appreciation jars:
Cut each card from the printed sheet and write a personal note on the back.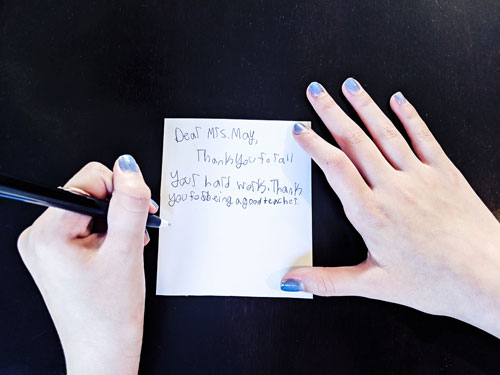 Punch a hole in each card, and then pull your jute or string through the hole.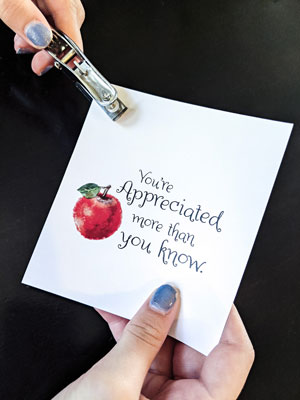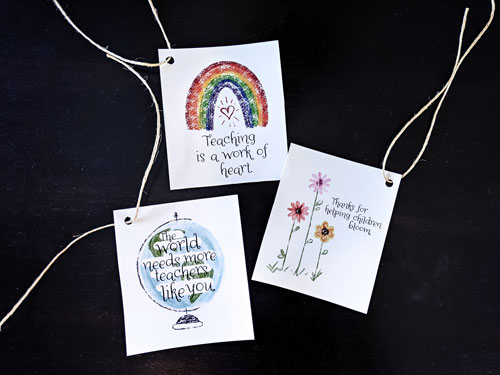 Tie the tags onto the vases.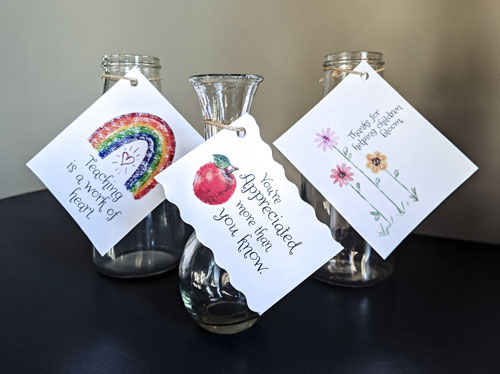 We love fresh flowers, so we cut several stems to arrange in the vases. These beautiful gifts are sure to uplift some special people.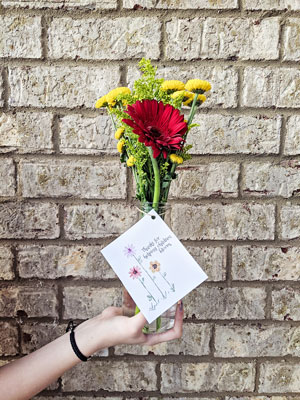 Now it's time to deliver. Whether giving to teachers, nurses, firefighters, neighbors or church members — go spread some light!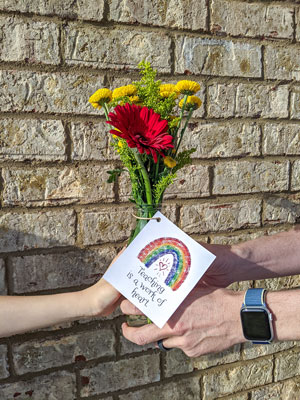 Other ideas for using these gift cards to tell a teacher "Thanks!"
Looking for other creative ways to use our Teacher Appreciation Cards? Try these unique ideas with these fun designs:
Purchase a gift card to Starbucks, Target or Amazon, and affix the tag to the gift card.
Pro tip: Purchasing gift cards at some grocery stores, such as Kroger, Harris Teeter and others, also gives you fuel points.
Purchase a brand of your favorite coffee or tea and attach a card to the packaging.
Print out the designs as postcards (four to a page, rather than six to a page. Have your little one write a special note on the back.
Print two images to a sheet to create a larger card you can fill out or have an entire class sign for the teacher.
Use the "Thanks for helping children bloom" illustration in this set and attach it to a bag of seeds or a pre-potted plant.
Follow the jar steps above to make tags and attach them to a scented candle or fun soap!
Use one of our ideas above or create your own and share your ideas with us. (We just might feature you next!)
Download Free Teacher Appreciation Cards
Our Teacher Appreciation Cards are created using crayon-like illustrations with special words of encouragement. These cards feature the following captions:
Teaching is a work of heart.
Thanks for helping children bloom.
You're appreciated more than you know.
Thank you!
It takes a Big Heart to shape little minds.
The world needs more teachers like you.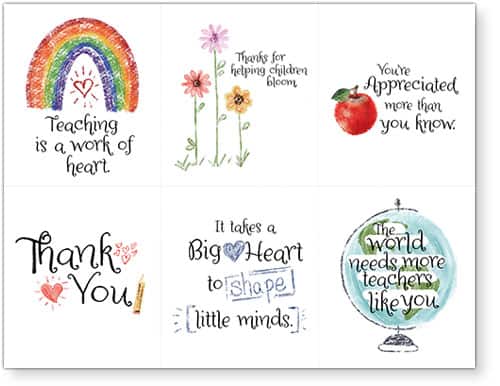 Click the links below to download the free card designs in PDF, Microsoft Word or Microsoft Publisher file formats.
Download the PDF file (.pdf)
Download the Word file (.docx)
Download the Publisher file (.pub)
Print out as many cards as you like. Don't forget they're perfect for sharing!
Looking for more downloads? 
If you'd like more designs, be sure to check out ChurchArt Online's Free Printable Scripture Cards for Spring.
For even more material: Start your 14-day Free Trial to ChurchArt.com for unlimited downloads of thousands of Bible-based clipart, illustrations, photos, Scripture cards and more.
This post was written by Jody Hoevelmann. Jody is a project manager and photographer for ChurchArt Online. She loves serving on her worship team at church, is a coffee fanatic, yardwork enthusiast and loving wife and mother. You might even spot her in several TV shows and Christian music videos!
ChurchArt Team
We love art, are passionate about helping churches create professional-looking communications and are a fun bunch of folks. With an in-tune creative director and a rock-solid team of artists, we will provide the art you'll want to use, plus templates, puzzles and extras that make your job easier.