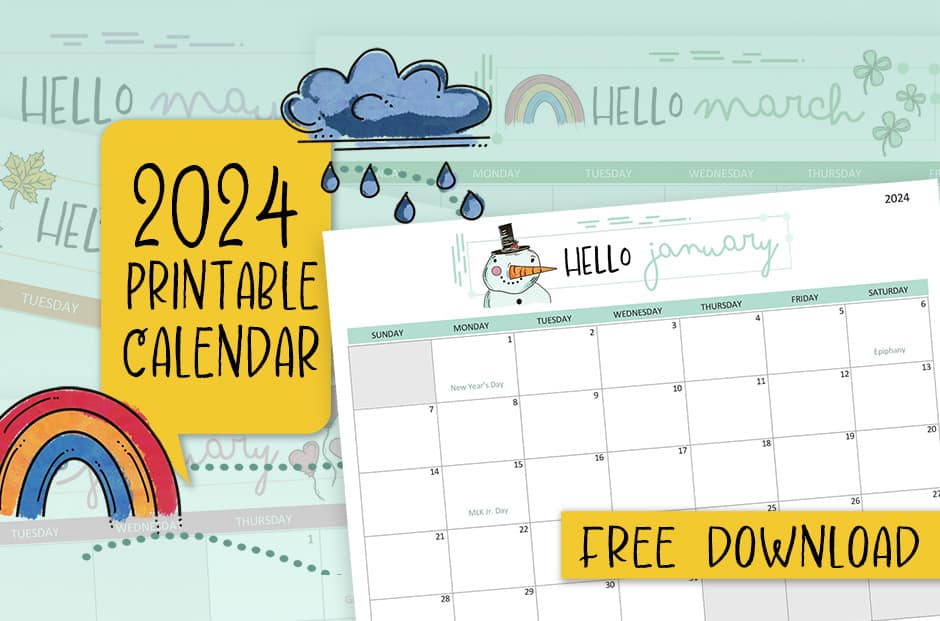 Free Printable 2024 Church Calendar
As the new year approaches, it's time (no pun intended) to sit down and get your 2024 yearly calendar ready — both for your desk and for your congregation.
With church staff and members alike, we'd all be lost without a 2024 monthly calendar. Christmas is an easy day to remember but when does Advent start again? Or when is the Feast of Pentecost?
Well, we've got you covered.
If you're looking for a clean, monthly calendar in PDF format for the entire year, be sure to scroll to the bottom of the page to download the free printable calendar today. This printable calendar template makes the perfect desk calendar to scribble down important events or times, and it's great for your church staff meetings, reception desk, worship lobby, or bulletin boards.
Continue reading for some tips to make your church calendar stand out for your members.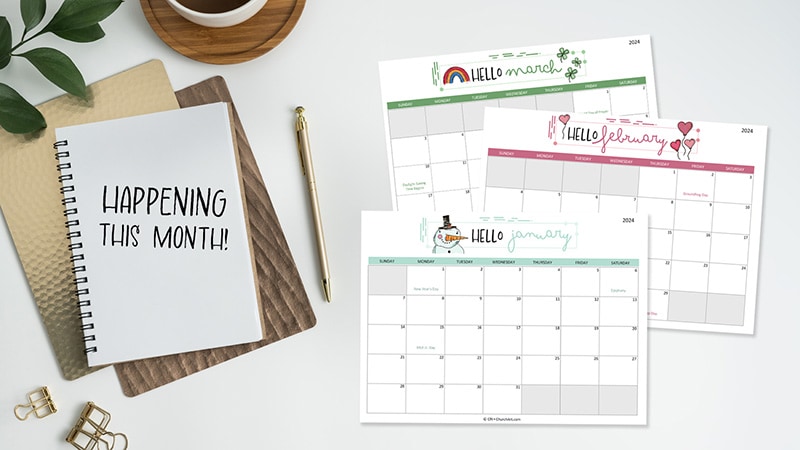 Can't Miss Calendar Tips for your Church Publications
Throughout the year, your members rely on a current, accurate calendar to be sure they are kept up to date with church events happening every day of the week — not just on Sundays. The yearly calendar may become one of the most important tools that you use every day. Having a blank monthly calendar template can help you organize and visualize any special event or holiday.
Follow these tips to design a can't-miss church calendar:
Highlight special events. You can enlarge the font, circle the date, or color the square a different color.
Add artwork for visual interest. Clipart, illustrations, photos, and other church graphics can bring a calendar to life. Use one or two dominant images instead of five or six smaller pieces. Save smaller clipart for highlighting just one or two events.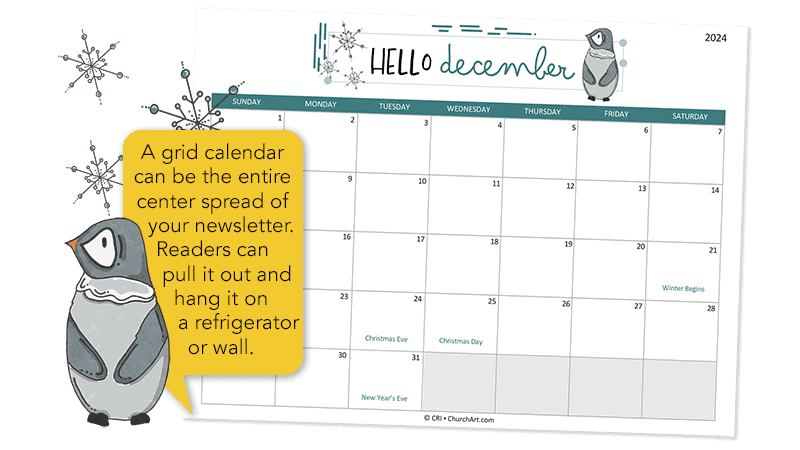 Consider a monthly art theme. Add clipart based on the theme (love, prayer, faith, etc.), and add a relevant Bible verse where space allows. To get started, check out the calendar templates in our online library.
For grid calendars, don't skimp on box size. Make date squares large enough to house legible text.
Use a list calendar if space is limited. A list format showcases only the dates when events take place, so it's great for bulletins and programs.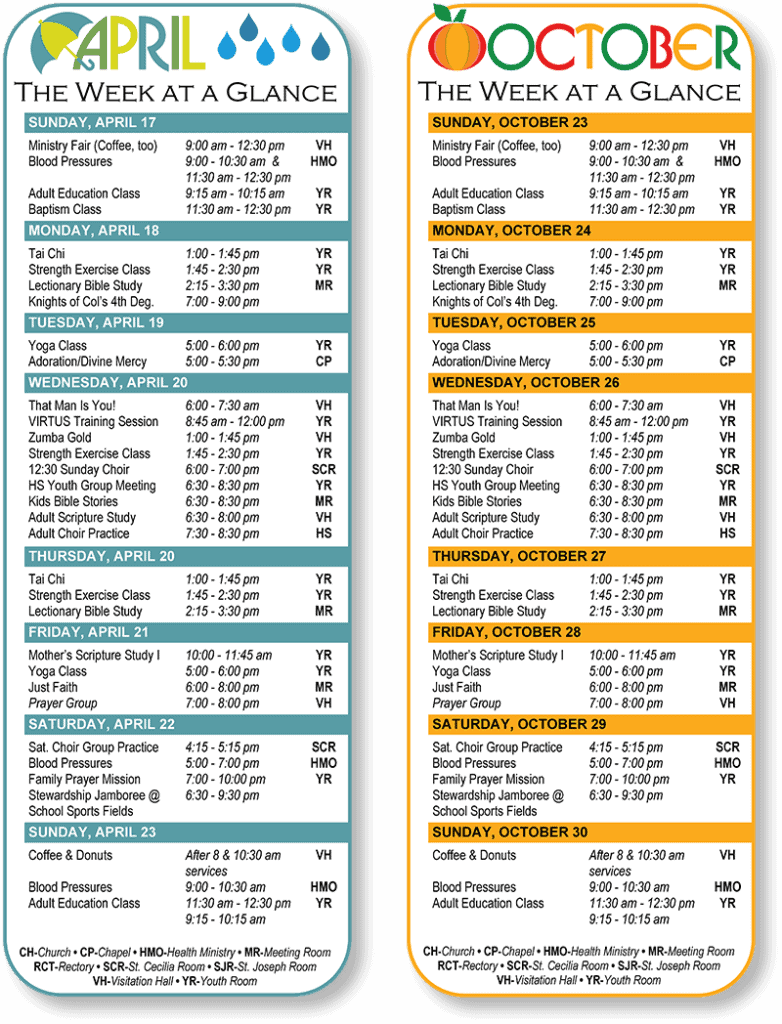 Important Content to Include on Your Church Yearly Calendar
To serve as a complete and trusted reference tool for your church members, be sure to include the following information on any annual calendar you provide.
Include month and year. This may seem obvious or unnecessary, but it's always important to keep the month and year visible on any church calendar. This is especially essential if the sheet becomes separated from the rest of your church newsletter or bulletin.
Include your church contact information. Provide the church name, address, phone number, and email address if space allows. Also, consider adding contact information to submit an event.
Times of events and activities into your planner template. Again, this may seem obvious, but be sure to include event start times for any calendar. You may also want to include times such as "set-up begins" or "Volunteers check-in" on any special calendars for church staff or committee members. Be sure to also include end times so members know how long an event is scheduled to last.
Reference key or legend. This is especially important if you must abbreviate the calendar's date boxes. Although abbreviations and acronyms are great and save space, not all members — especially new members — will know their meaning.

Enjoy This FREE 2024 Printable Church Calendar
This free, PDF printable calendar for your church includes 2024 federal holidays and observances, plus a few extra Christian special holidays making it perfect for churches.
Each blank calendar template features a Sunday start and Saturday end – as opposed to a Monday start; a different professionally designed image for each month. It is formatted to fit on an 8.5″ x 11″ sheet of paper printed in landscape format.
To download the free calendar PDF template, visit our store and order today to get your 2024 planning underway. We will send you an email with a link to download the printable calendar. Also, check out our other freebie products while you're at the store.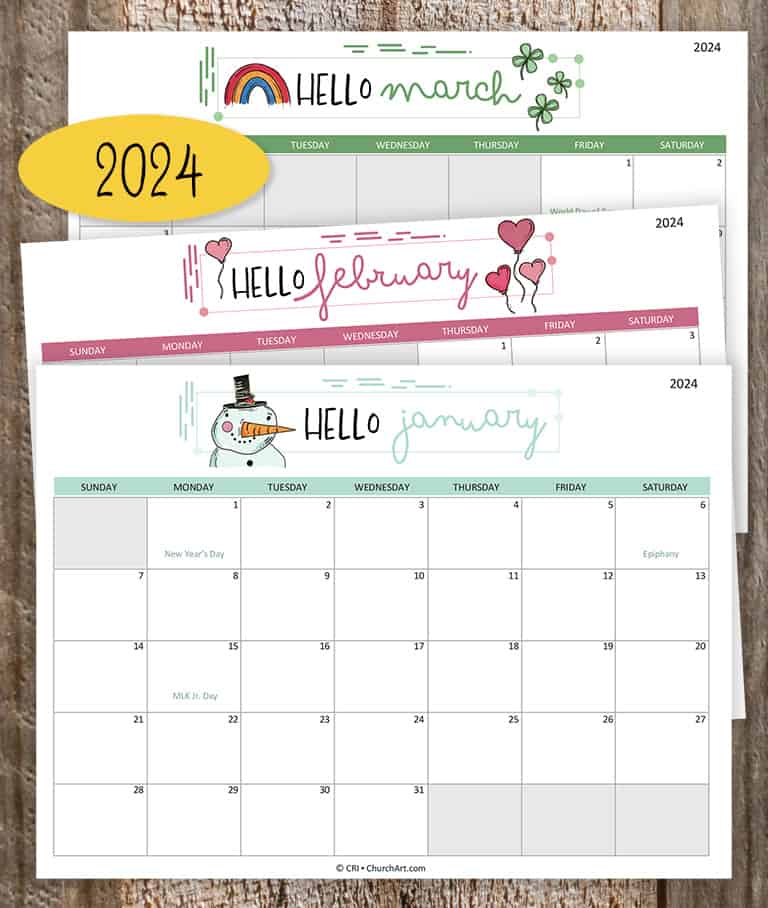 The editable, Microsoft Word version of our 2024 calendar printable is available to ChurchArt.com members.
Elevate your church planning and communications with ChurchArt.com! When you become a member, you unlock exclusive access to our editable Microsoft Word version of the stunning 2024 calendar. But that's just the tip of the iceberg! As a member, you'll also tap into a treasure trove of church templates, rich church-related media, and inspiring graphics that are sure to elevate your ministry's outreach and impact.
So why wait? Unleash the full potential of your church's planning and design—sign up for your 14-day FREE trial today!
ChurchArt Team
We love art, are passionate about helping churches create professional-looking communications and are a fun bunch of folks. With an in-tune creative director and a rock-solid team of artists, we will provide the art you'll want to use, plus templates, puzzles and extras that make your job easier.