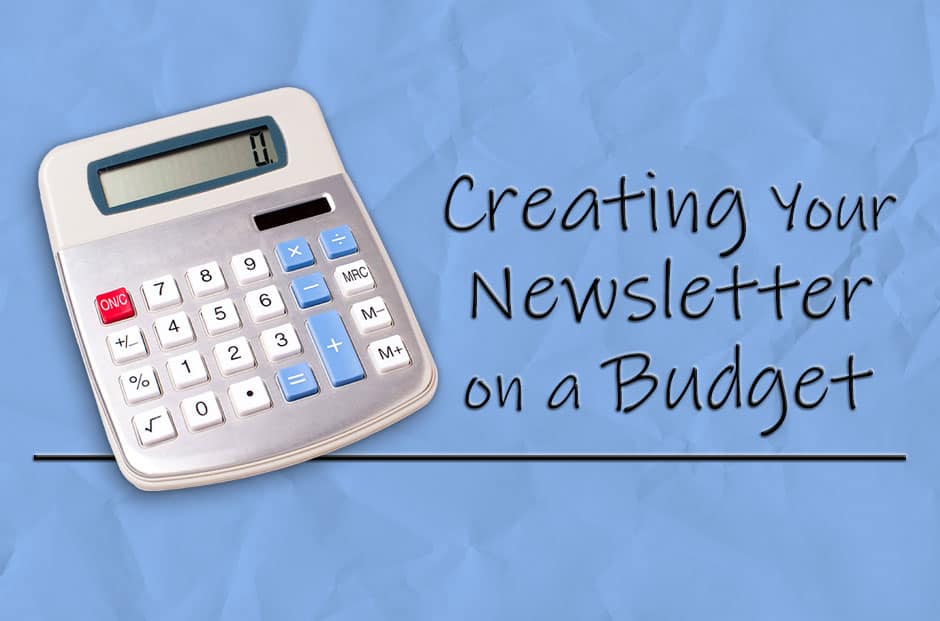 Achieve Quality Results on a Tight Budget
With USPS first-class mail prices on the rise again, church newsletter budgets that are already tiny — or nonexistent — are feeling the strain. Even if your church is pinching pennies, the newsletter still can stand out, thanks to many available low-cost options. Let's explore money-saving tips for each production step. 
CREATION
Tip 1: Find an inexpensive or free program.
Thankfully, you can build a newsletter without investing in fancy software. Most computers come with free or low-cost programs that will meet your design needs. Even Microsoft Word has come a long way, incorporating design features such as columns, text wrapping, text boxes and borders.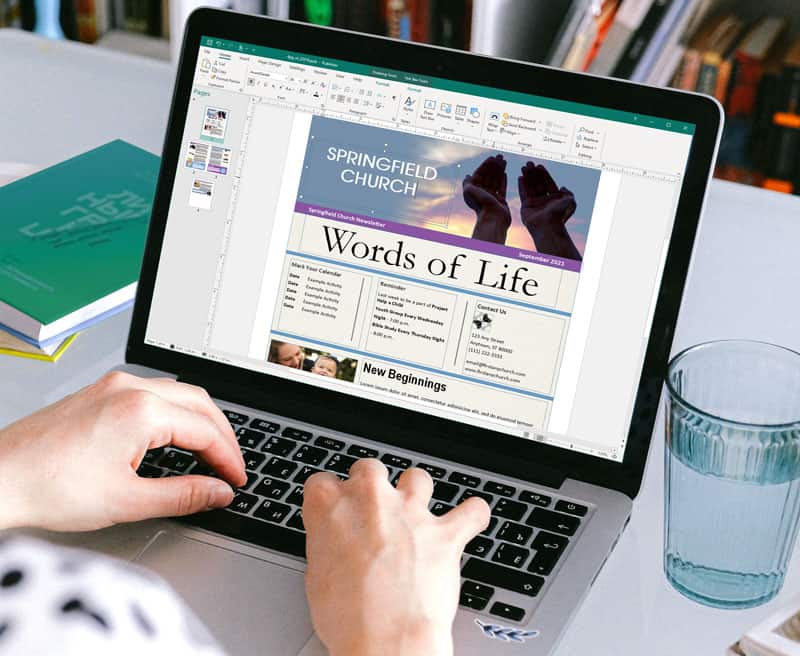 Microsoft Publisher, which comes with most Microsoft Office packages, is a great choice for more advanced design options. Don't have a Microsoft Office package? You can download Publisher separately. Free programs include Scribus Desktop Publishing and Apache OpenOffice.
Tip 2: Use a template.
Templates speed up and simplify the layout process. You simply drop in various elements, without spending hours on design. Most of our Templates – Newsletters are made for Microsoft Word and Publisher.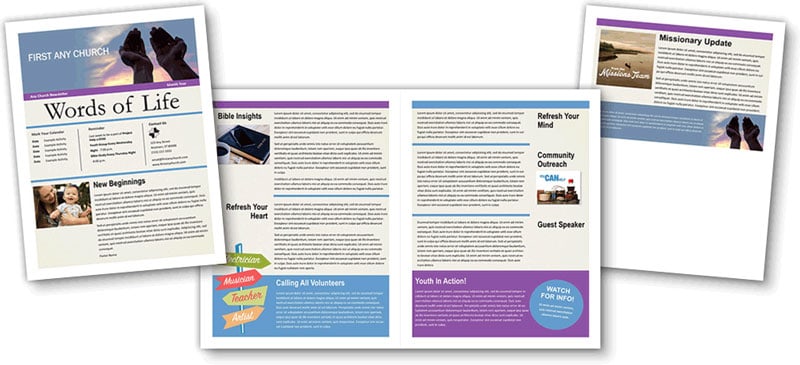 Tip 3: Find a volunteer.
Another cost-saving alternative is recruiting a congregational volunteer who has a design background. A trustworthy youth or young adult also may be a perfect fit.
PRINTING
 Tip 1: Consider your paper needs.
Prices are based on weight, brightness and percent of recycled content. Using paper in beige, light gray, tan or pastel colors, while slightly more expensive, is a great way to spruce up a black-and-white design without involving a print house.
 Tip 2: Consider your printer needs.
 If you don't print huge quantities and mostly use text and black-and-white art, a laser printer and copy machine will likely suffice. However, if you print large quantities, outsourcing the job may be more cost-effective. When printing in-house (or in-church), the cost per piece goes up with each copy you make. However, with a printer, the price per piece often goes down the more copies you order.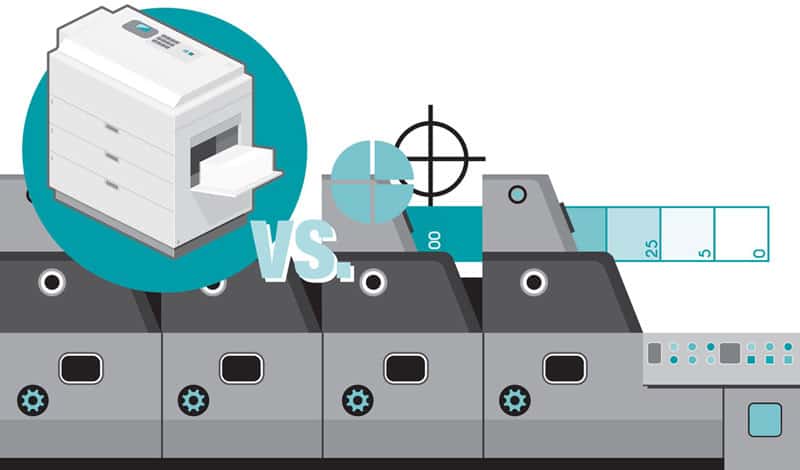 When working with a printer, obtain several quotes based on quantity and color. Sometimes printing 1,000 full-color copies can be cheaper than printing only 750 black-and-white copies. This has puzzled us for years, but that's the way the printing world works!
Tip 3: Consider your color options.
Printing costs are based not only on quantity but also on the type of color. Full color (also called process color and four-color) is more expensive than spot color (one or two colors used throughout), and spot color is more expensive than just black and white.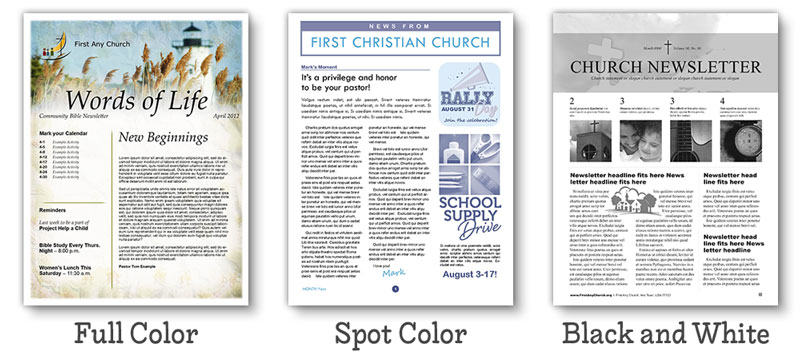 Keep in mind: Office-supply stores typically don't offer a discount for full color vs. spot color.
Although full-color printing can cost three or four times more than black and white, that might be right for your needs, especially if you find a good price on paper.
DISTRIBUTION
Tip 1: Investigate bulk mailing for not-for-profit rates.
Mailing hard copies of the newsletter to the entire congregation is costly, so investigate bulk mailing for not-for-profit rates. They're considerably lower, especially for sending large quantities.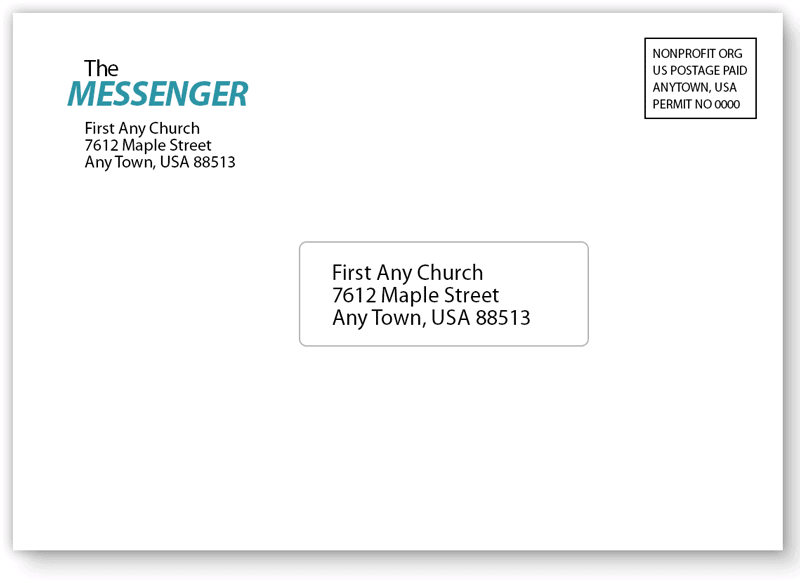 To find more information, visit www.USPS.com.
Tip 2: Consider alternate forms of delivery.
Thanks to the internet, emailing your church newsletter is a popular, affordable option. The easiest way is to save it as a PDF (Portable Document Format). This file type is universally accepted on all computers and devices, including cell phones. Because a PDF saves the publication as an image, it can't be changed or corrupted during delivery.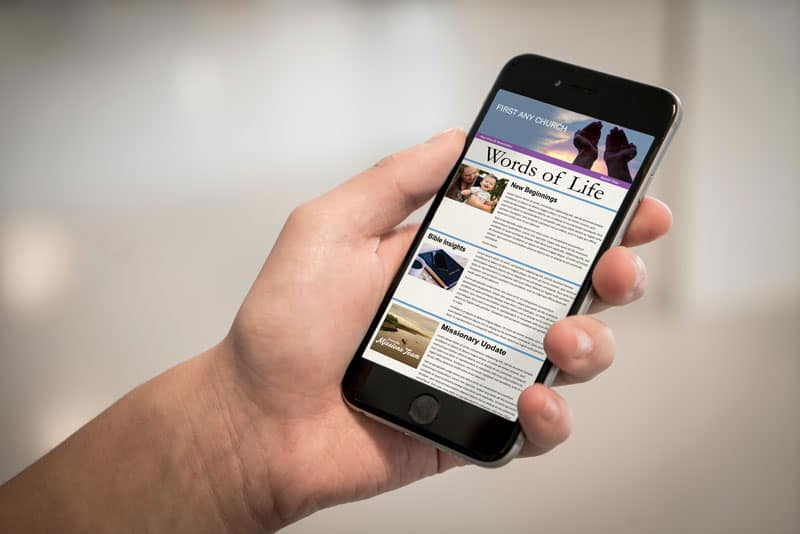 Email distribution programs such as Vertical Response, Constant Contact and MailChimp do charge a small fee for sending and managing emails. However, we're talking about a fraction of a penny per email, compared to 30 or 45 cents per mailing. Many programs also offer non-profit rates or services specifically for churches.
Tip 3: Always have some copies available for pickup.
Even if you do send out the newsletter, not all members may be able to receive email or will have provided mailing information to the church. Displaying copies for pickup on Sundays is a free way to distribute the newsletter and to ensure that all members are in the know.
Each newsletter production step offers many choices with various price points. Balance your church's needs at each step, and consider lower-cost options whenever possible. Or perhaps skimp on one area so you can splurge on another. For example, use cheaper paper so you can print in color, or send e-newsletters so you can pay a designer.
Though you may be watching your pennies along the way, the finished publication can still look like a million bucks!
ChurchArt Team
We love art, are passionate about helping churches create professional-looking communications and are a fun bunch of folks. With an in-tune creative director and a rock-solid team of artists, we will provide the art you'll want to use, plus templates, puzzles and extras that make your job easier.